MineSweeper for Palm OS
This is another version of MineSweeper for PalmOS, with a few more features than found in the old MineHunt application.
Keeps track of time taken to clear board
Tracking of best times
Allow differing board sizes
Allow custom board sizes and numbers of mines
Allows automatic deducing of neighbouring squares (double click or hold PageUp and click), like the left+right mouse click on Windows Minesweeper, only better
A 'Defuse' button that safely deals with any square (comes with a time penalty)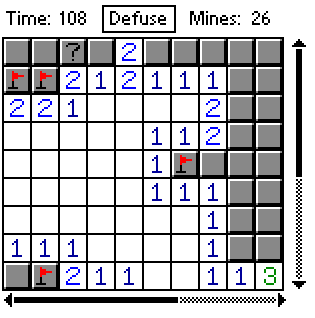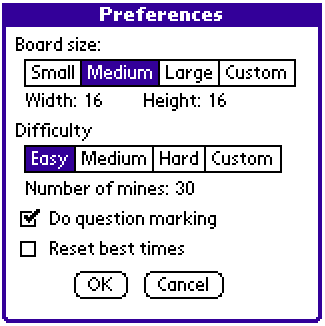 Download
DISCLAIMER: you run this software at your own risk. I take no responsibility if it trashes your PalmPilot; however, I would be interested to hear about any bugs. You never know, I might even fix them.
Download MineSweep.prc v0.9 (27k) for PalmOS >= 3.0
---
---