RoboRally for Palm OS
RoboRallytm is an excellent board game from Wizards of the Coast. I've written a PalmOS version of the game, which is available for download below.
If you don't know the game, you're probably best off reading the rules (PDF) before trying to play.
If you do know the game, I should probably point out that:
Options cards are not implemented
Additional information about a board square (such as the phases that crushers and pushers fire) can be seen by clicking on the square
The board layout and the course and the computer players can all be changed from the menu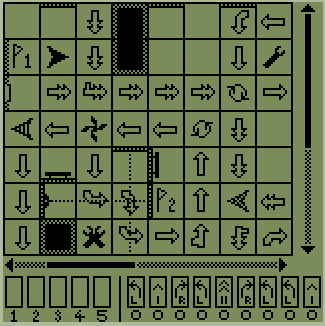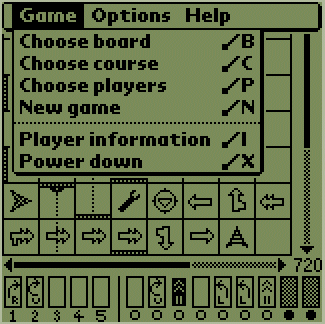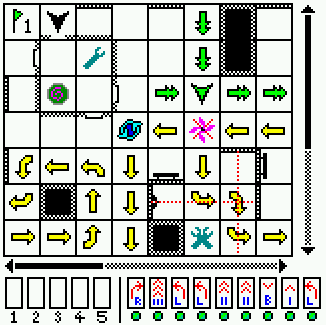 Legal Stuff
RoboRallytm is a registered trademark of Wizards of the Coast. This PalmOS version of the game is produced without official permission, and so may disappear from this website at any time (i.e. if Wizards of the Coast contact me with any kind of complaint).
Download
DISCLAIMER: you run this software at your own risk. I take no responsibility if it trashes your PalmPilot; however, I would be interested to hear about any bugs. You never know, I might even fix them.
Update [Jan05]: New version with colour support now in place
Download RoboRally.prc v0.95 (98k) for PalmOS >= 3.0
Future Directions
I've probably done about as much development of this project as I care to at the moment, but I do have a list of features I could return to in future.
---
---